Travelling With Your Pet Abroad
Find and book your ferry:
Travelling With Your Pet Abroad
If you're planning to travel abroad with your pet then read our guide to travelling by ferry with your cat or dog.
Learn more about pet passports, how to book your pet on to your ferry crossing and how they'll travel during the crossing.
Countries that you can travel to with your pet as part of the PETS scheme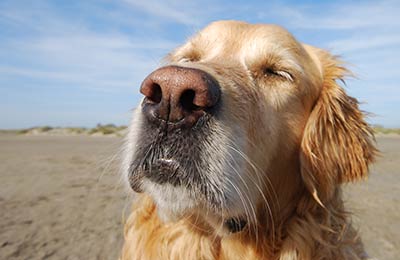 If you are travelling with your pet cat of dog to the Channel Islands or the Isle of Man then there are no requirements when travelling - as long as you don't go outside those countries on your journey. Other countries are listed below:
Countries in the European Union:
Austria, the Azores, the Balearic Islands, Belgium, Bulgaria, the Canary Islands, Ceuta, Cyprus, the Czech Republic, Denmark, Estonia, the Faroe Islands, Finland, France, French Guiana, Germany, Greece, Gibraltar, Greenland, Guadeloupe, Hungary, Ireland, Italy, Latvia, Lithuania, Luxembourg, Madeira, Malta, Martinique, Melilla, the Netherlands, Poland, Portugal, Romania, Slovakia, Slovenia, Spain, Sweden.
Countries Outside the European Union:
Andorra, Antigua & Barbuda, Argentina, Aruba, Ascension Island, Australia, Bahrain, Barbados, Belarus, Bermuda, Bosnia-Herzegovina, the British Virgin Islands, Canada, the Cayman Islands, Chile, Croatia, the Falkland Islands, Fiji, French Polynesia, Guam, Hawaii, Hong Kong, Iceland, Jamaica, Japan, Liechtenstein, Malaysia, Mauritius, Mayotte, Mexico Monaco, Montserrat, Netherlands, Antilles, Singapore St, Lucia, New Caledonia, New Zealand, Norway, Russian Federation, St Helena, St Kitts & Nevis, St Vincent & The Grenadines, San Marino, Switzerland, Taiwan, Trinidad and Tobago, United Arab Emirates, USA, Vanuatu the Vatican, Wallis & Futuna.
At the Vet's - What's Required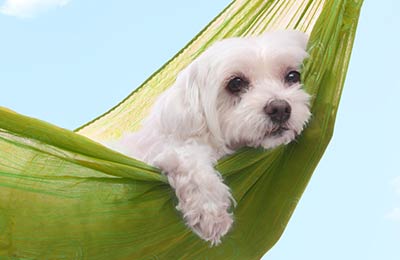 Given the large number of countries that are part of the PETS Scheme, it's highly likely that you'll be able to take your pet to the place you're visiting. Your first step is to visit your vet and advise them that your pet requires the correct vaccines and tests to be able to travel abroad. Vets are up to date on the requirements and will be able to advise you accordingly.
A microchip
This must be done before any inoculation injections. If your dog had a rabies injection before, you'll have to get another one after.
Rabies vaccination
Have your pet vaccinated against rabies after having a microchip. There is no exemption - it doesn't matter if your pet has already had a rabies vaccination before.
Tapeworm Treatment
If entering the UK, get a tapeworm treatment. If you are coming back to the UK, before you take your pet on the ferry you must get it treated against tapeworm. This is a simple inexpensive procedure but very important. You must do this not less than 24 hours before you check in and 1-5 days before you check in. The check must be recorded in your pet's passport. If you are going on a day trip with your pet, you will will need to have the treatment carried out in the UK 1-5 days before they are checked in for the return journey.
Blood test
A blood test is only required if you are departing from countries not listed above.
How to get a Pet Passport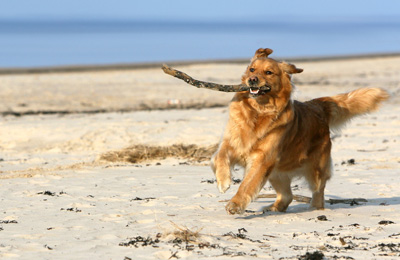 Pet passports are a vital part of taking your pet abroad - and they cannot travel without one. It is vital that you have everything up to date.
To go in or out of the UK you'll need an EU Pet Passport. The passport shows that your pet has been microchipped, had a rabies vaccine and a satisfactory blood test showing the vaccine worked.
In the UK you will need to find a government-authorised vet known as a local Veterinary Inspector (LVI). Most local vets have a resident LVI. If this is not the case, they will certainly be able to tell you where the nearest one is. Your local Animal Health Office will also be able to advise where your nearest LVI is located.
Once you have your Pet Passport you will need to get it completed. Sections I-V of the passport are the ones that you'll need to get your vet to complete.
Your vet should complete the following information:
Your pet's vaccination record and the blood test result.
Evidence of the date your pet was micro-chipped along with the microchip number.
For more information on everything you need, visit the GOV.UK website.
On board! Tips for a happy dog during your ferry crossing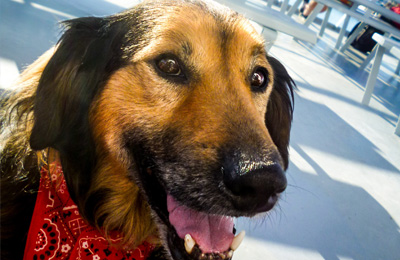 Ensure that your pet is not hot or overheating - regardless of their environment. Excessive panting and drooling may be signs that your dog is too hot.
Never ever leave your dog alone in the car with the windows closed. Remember your car can become like an oven in hot weather and can be fatal for animals.
On long crossings your dog will need plenty of water and regular walks. Some ferry operators have dedicated areas on board the ship where you can excercise your dog.
If going on a short journey it may be a good idea not to feed your dog too close to the departure.
Some ferry companies require you to have a muzzle for your dog. It's often a good idea to have one anyway - especially if you will come into contact with other people. Remember you may come across very small children and some cultures are not too fond of dogs.
Don't let your dog stick his head out of the window as passing vehicles could injure him, his eyes or ears could be damaged by particles in the air or he could try to jump out
Only sedate your dog if completely necessary and as a last resort. Only use sedatives that have been prescribed specifically for your dog by your vet.
How to make a ferry booking for your pet
Once you have your pet passport, you can now make your ferry booking. Using the Any Ferry booking form, you can simply book tickets for your pet online. Select the number of passengers and then enter the number of cats or dogs you are travelling with.
Information about travelling with your pet can found on each of our ferry operator pages
We provide online booking for pets with a large selection of ferry companies. Should the pet option not be available online for your requested route or operator, please email mail@anyferry.co.uk